Inspiring Travel Destinations for Soul Searching
We all have problems, and more often than not, the simplest thing to do is to pack up and run away. Many of us stop ourselves from doing just that because real life menacingly stands in the way. Despite all of that, you have to understand that only when you heal yourself and find your way will you be able to positively impact the lives of those around you.
Whether you have been scarred by a personal tragedy like the death of a loved one, an illness, or simply a heart-wrenching break up, there is no shame in admitting that time off from reality is what you need to heal yourself. You must understand that your life might never fall into place as easily as it does for others.
Sometimes, you have to work at it to finally discover the meaning of why you are here. Look at it as a privilege and not as a burden. Not many people can say that they were gifted with the rare chance to figure out for themselves just what they were made to do.
Soul searching destinations to visit
Here are the most recommended travel destinations for some much needed wanderlusting and soul searching.
Sure, there are lakes, caves, jungles, and mountains to see in Sarawak, but the main focus of this trip is to experience how man and nature can live as one. Pay a visit to the Penan people, and live with them for several weeks. They are a nomadic aboriginal tribe who call the rainforest of Borneo home, and they are one of the last few people on earth who live a hunter-gatherer lifestyle.
See for yourself how deforestation affects their simple way of life, and learn firsthand what it takes to survive in a cruel and selfish world. You will get the privilege to live with them, learn their survival techniques, embrace their loving and giving culture, and be overwhelmed by how much kindness there is in people who live a life unmarred by the evils of money, government, and the outside world.
#2 Taiga, Mongolia.
When one thinks of Mongolia, one can't help but envision Genghis Khan and his fierce army riding across endless plains. Mongolia today is very much like it was eons ago, sans Genghis, of course.
What remains is untouched nature and the Dukha. They are nomadic reindeer herders who are strong advocates of their ancient way of life. So long as you do not disrupt their herding and nomadic patterns, this community welcomes visitors to stay with them for up to 3 days. Learn their fascinating history and traditions firsthand, and discover what it is really like to live off the grid.
#3 Varanasi, India.
If spirituality is what you seek, then India is where you need to head to, particularly Varanasi, a holy city perched on the Northern banks of the Ganges River. This city has played a vital role in the development of both Hinduism and Buddhism, and today, over 16% of its inhabitants are Muslim.
This makes for a wonderful spiritual and religious voyage and is not to be missed. Overlap your trip with one of the many festivals that take place, such as the five-day musical festival known as Dhrupad Mela and Nag Nathaiya that celebrates mythological tradition.
Keep in mind that your senses will be overwhelmed by the barrage of sights, sounds, and smells there. From rotting corpses to the sickly sweet smell of jasmine flowers, this is not a trip for the faint of heart.
Mount Koya boasts eight peaks and is known as one of the most spiritual places in Japan. Pilgrims travel from far and wide to pay homage to the serenity of the mountain. You will come across everything from purification ceremonies to moss-covered tombstones, but no matter what you see, you can be sure that every aspect of it will be steeped in spirituality.
There are hundreds of temples in the area, many of which offer lodging and vegetarian meals to travelers, so take your pick and live like a monk for as long as you can.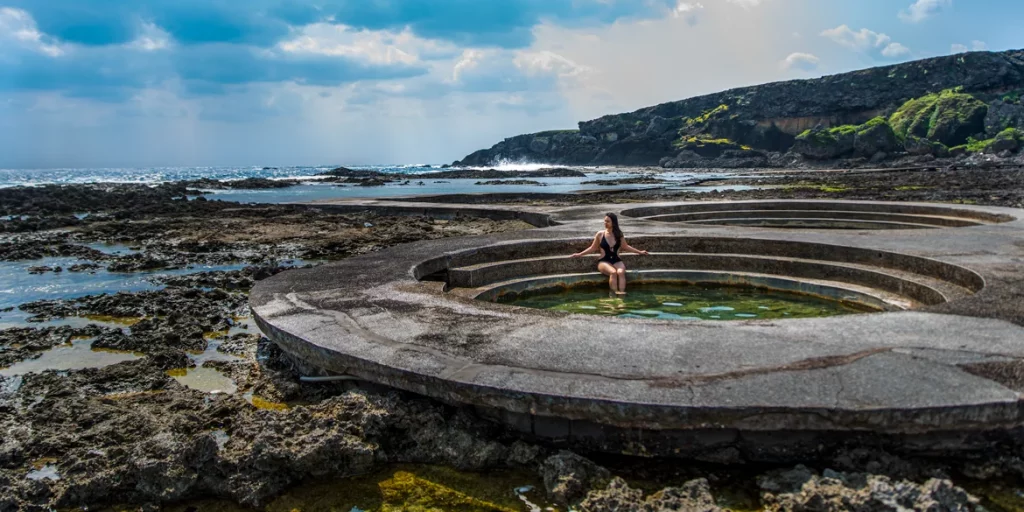 The East coast of Taiwan remains generally untouched, what more, a small volcanic island that lies just off of it? Its magnificent geographical landscape, natural beauty, and rich cultural background as the base of the aboriginal Amis folk make it a wonderful place to explore on your own. Scuba dive, hike, swim, and enjoy great seafood when you're on Green Island.
This rock is also home to one of only three saltwater hot springs in the world. Head over at night for a soak, and be sure to look up at the stars. No matter what problems need solving, you will find a solution right there and then. At the very least, you will be at peace.
So wait no longer, and head for a much-needed soul searching adventure before time and self-doubt catch up with you.